Ohio State and Michigan vie for playoff spot
The Ohio State-Michigan rivalry began in 1897 and every member on the winning team receives a pair of golden pants, according to Winsipedia. Michigan leads the all-time series 58-47-6 over Ohio State, but the Buckeyes have won 12 of the last 14 games.
"'The Game' is widely considered by all to be the biggest rivalry in collegiate sports," said senior Zack Stablein, who has been a Buckeye fan since he was born. This year's game will be in Columbus, at the Horseshoe, and it is expected to b
e one of the best games of the year, according to Yahoo Sports.
Both teams have had Nov. 26 circled on their calendars ever since Michigan Head Coach Jim Harbaugh arrived in late 2014. "Michigan went downhill after 2007, but Harbaugh has resurrected the Wolverines and has turned them into a title contender in such a short time," said junior and lifetime Wolverine fan Korey Reeves.
Harbaugh went 10-3 in his first season coaching at his alma mater and is leading it into this historic rivalry game undefeated, according to ESPN. Harbaugh played QB at Michigan for four years and started from 1984-86. He broke several school passing records and led his team to three bowl games, according to imdb.com.
Urban Meyer's Buckeyes lost stunningly in Happy Valley 24-21 to the Nittany Lions earlier this year. According to cbssports.com, Meyer has had at least one loss in each of the three seasons he won a championship.
"To be a successful coach at Ohio State, you need to beat Michigan every year, and that is what Urban Meyer has done and executed perfectly," said Stablein. Meyer lost to the Wolverines once when he coached the University of Florida back in 2008 but is unblemished so far against Michigan in his four years as Ohio State's coach, according to Winsipedia.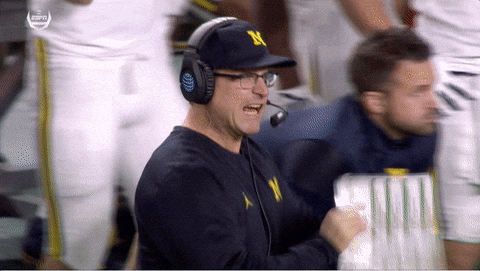 "Michigan's defense has been suffocating for opponents at times, and they lead the entire FBS in several defensive categories," said Reeves. Harbaugh's Wolverines have given up the least amount of yards per game out of all 129 FBS teams, according to ncaa.com.
"Ohio State's offensive line has struggled and looked sloppy in a couple games this year, and that is partly due to inexperience, but I fully believe Urban will correct his team's flaws in time for the biggest game of the year," said senior Taryn Lester. He is a sports fanatic and was raised in a Buckeye household.
The Buckeyes have only three returning starters on offense, two being on the offensive line, the other being dual- threat QB J.T. Barrett, according to sbnation.com. There are 16 total new starters and that lack of playing experience has hurt the Buckeyes a little bit in conference play, according to elevenwarriors.com.
"Michigan's offense and defense have been very consistent in terms of game to game performances, and they are led by superstar athlete Jabrill Peppers, who has launched himself deep into the Heisman race by dominating on both sides of the ball," said Reeves.
This game has all the makings of an instant classic. Both teams are highly ranked, and both are very desperate and hungry to get the win," said junior David Cavote, who has a passion for sports and also grew up in a Buckeye-dominated house.
As the college football regular season comes to an end, this game could shake-up the potential playoff matchups. "The winner of the Ohio State- Michigan game will go on to play Wisconsin in the B1G title game in Indianapolis, and if [Ohio State or Michigan] wins that then they are in the playoff," said Cavote.